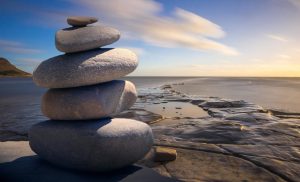 Companies are seeing the benefits of implementing in-office programs to help employees deal with workplace stress and create work/ life balance.  In addition to cultivating positive work environments, many employers have experienced workplace improvements simply by introducing meditation programs. Some offices offer meditation spaces while others offer guided sessions that help introduce mindful practices into employees' lives during the workday. The most common practice in the workplace is Mindfulness Meditation, which is a practice that brings the mind's focus to the body and breathing in order to help improve concentration and promote open awareness of thoughts and feelings. But the effects extend beyond the moment of practice and into all decisions made throughout the day from what to eat, how to perform tasks at work and how to spend free time. 
Researchers at the Wellness Institute at Cleveland Clinic found that mindfulness-based techniques, including meditation, can lower stress levels in a demanding work environment and lead to happier, more engaged employees. 
In a one-year, randomized study, wellness researchers introduced an online meditation/stress management program at a busy corporate call center. After eight weeks of intervention, participating employees reported feeling more energy and less stress and anxiety, which can lead to depression. Many said they were sleeping better and had lost weight. Positive psychological changes were still evident a year later. 
"What we found is that when employers make a real commitment to building resiliency in their workforce, the benefits are sustainable," said Jennifer Hunter, the Director of Wellness, Employer Services, at Cleveland Clinic. 
Hunter, a cognitive behavior therapist and one of the study's five authors, finds it significant that the positive changes appear to be lasting, meaning the employees learned new, permanent coping skills. A full year after the stress reduction program, participants reported: 
A 31 percent decrease in stress levels 
A 28 percent increase in vitality, a measure of how energized a person feels throughout the workday 
You can read more about the study here: 
The study is being published in the current issue of the Journal of Occupational and Environmental Medicine. It can be found online at http://bit.ly/1RydLO6. 
EAP programs can help industries of all types find creative ways to introduce stress management programming into a workspace.  CFLR's EAP programming offers different solutions to help combat workplace pressures and help employees find a work life balance. One of the unique solutions CFLR created was monthly drop-in ZOOM classes that will focus on different ways employers can help reduce stress within the workforce.  This month we are introducing stress management through meditation. Join CFLR's EAP Coordinators, March 14 at 12:00pm via ZOOM for an introduction to meditation.  
Sources or for more information:  
https://newsroom.clevelandclinic.org/2016/03/09/cleveland-clinic-study-finds-meditation-work-reduces-stress-boosts-morale/amp/