Recovery is Real. Attainable. Sustainable. Powerful.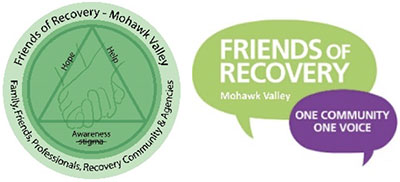 Our mission is to help remove the stigmas associated with drug and alcohol addictions by demonstrating the huge benefits of recovery for individuals, families and friends.
Friends of Recovery - Oneida meets the first Tuesday of every month from 3-4 pm.  Currently, we are meeting via Zoom.  You can get to this link by contacting Kathy kathleenl@neighborhoodctr.org or Tom tomr53@roadrunner.com. We welcome anyone who is interested in helping to shape the recovery movement across our community and offer hope to those in need.
Developing recovery supports in the community is essential to building the foundation for and sustaining recovery for the individual and the family. To do so, we must include the voice of people in recovery, families in recovery, families that are struggling with active addiction and those who have lost someone to addiction.