Friends and Fun in Recovery
Recovery is all about a fresh start – new friends, new hobbies and activities, new surroundings, new experiences. A whole new start. At CFLR, Inc., we are committed to introducing participants to new options on the road to recovery and giving them the opportunity to try them out.
Give It A Whirl Wednesdays: 502 Court St., 2nd Floor Conference Room, Utica
Contact: Alisa Ferraro, 315.768.2644
Friday Friends and Fun: Clark Memorial Hall, 140 W. Liberty Street, Rome
Contact: Joe Fargo, 315.832.1781
COMING SOON: Herkimer Friends and Fun, Currently under construction
Contact: Alisa Ferraro, 315.768.2644
Recovery is Real. Attainable. Sustainable. Powerful.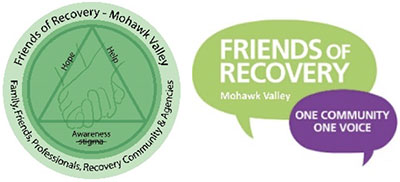 Our mission is to help remove the stigmas associated with drug and alcohol addictions by demonstrating the huge benefits of recovery for individuals, families and friends.
Friends of Recovery Mohawk Valley meets the first Tuesday of every month from 6-7pm at the Tramontane Café, 1105 Lincoln Ave, Utica. We welcome anyone who is interested in helping to shape the recovery movement across our community and offer hope to those in need.
Developing recovery supports in the community is essential to building the foundation for and sustaining recovery for the individual and the family. To do so, we must include the voice of people in recovery, families in recovery, families that are struggling with active addiction and those who have lost someone to addiction.
Support recovery efforts of AA, NA, and Al-Anon as well as the CFLR recovery aftercare programs
Friends of Recovery Mohawk Valley (FOR MV) meets the first Tuesday of each month at the Tramontane Café, 1104 Lincoln Ave, Utica